WE'VE EARNED OUR STRIPES

TAKE A PEEK BEHIND THE CURTAIN TO SEE HOW
Our Mission
Hey Tiger is on a mission to delight you aesthetically, dazzle your tastebuds, and make chocolate as sweet as it should be for everyone.
Every person in the chocolate industry deserves safe, equitable working conditions and the opportunity to thrive – so we're here to disrupt the chocolate industry with killer chocolate and ethical practices. Hey Tiger goes the extra mile when it comes to community initiatives and production, and stands in solidarity with cacao farmers by sourcing our cocoa from regulated, ethical suppliers.
Made in Melbourne

Ethically Sourced Cacao

Empowers Women and Children in Africa

Premium Taste

Palm Oil Free

Sustainably Produced
The Current Industry
The cacao industry, in its current state, is broken. Millions of women and children are in forced labour situations on cacao farms in West Africa, where the majority of cacao comes from, and 2/3 of farmers are living below the poverty line.
Over 60% of the world's cocoa comes from Côte d'Ivoire & Ghana, produced by 2,500,000 smallholder farmers. The living income is set at $2.49 per person per day in Côte d'Ivoire, and $2.16 in Ghana. However, excessively low cocoa prices have led to an average farmer income of just $0.72 a day.
There are also an estimated 1.56 million children missing out on their youth to child labour in these countries. 95% of these children are doing hazardous work such as using a machete, spraying chemical pesticides, or lifting heavy loads.
This has to change.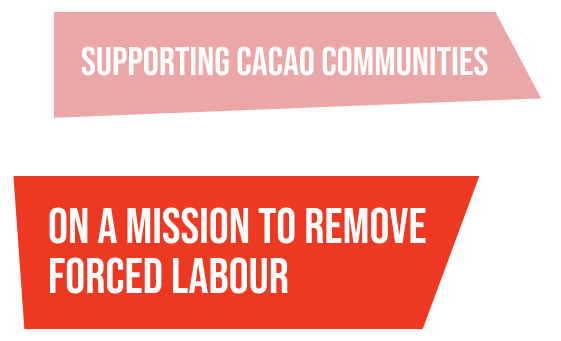 Sourcing
At Hey Tiger, we are committed to not just avoiding unethical practices, but actively counteracting them.
We purchase our cacao using a system that ensures regular auditing of the supply chain, weeding out occurrences of underpayment, forced labour or enslavement, and child or underage labour.
Our cacao origins are largely Western African, and some are of South American origin. All of them pass our strict regulation standards. On top of this, most of our inclusions are made right here in Australia. For more information about specific products, enquire via our Contact page.
Production
Every Hey Tiger block is made with love right here in Melbourne. Not only does this ensure a premium product, but contributes to our Australian community. We love having our whole team so close together to innovate, create, and craft Hey Tiger goodies.
Yep, every Hey Tiger chocolate is made in Melbourne — and uses 100% recyclable packaging* , too!
Every block produced utilises cacao purchased through an equitable purchasing program, which pours funds back into communities to help build a more just world. And as part of our fierce commitment to cacao communities, we donate 2% of every block to our charity partners at The Hunger Project.
Looks good, tastes good, does good. It really is that simple. Oh — we could have just said that.
Amazing Do Good Chocolate
We donate 2% of every block sold to The Hunger Project.
Discover More