AMAZING DO GOOD CHOCOLATE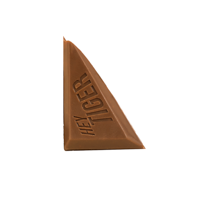 Meet the line-up
Discover your new favourite in our unique range
We've earned our stripes.
Take a peek behind the curtain to see how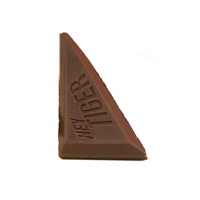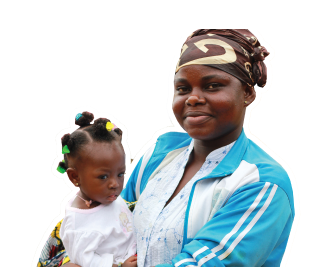 Hey Tiger's Mission
Most of the world's chocolate is sourced from cacao farms in rural Africa. Unfortunately, two thirds of these cacao farmers live below the poverty line, and there are 1.5 million children missing out on their youth due to child labour.
Suffering has no place in the chocolate industry. Read about how your purchase supports ethical practices on our Mission page.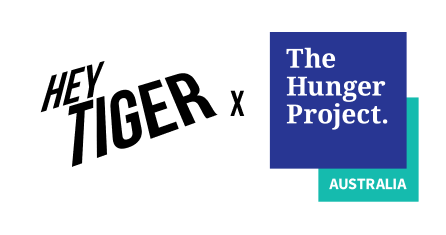 Hey Tiger x The Hunger Project
We're proud to have The Hunger Project as our charity partner. The Hunger Project supports women's and children's empowerment in Africa and beyond by pioneering sustainable strategies and advocating for their adoption globally.
Every Hey Tiger block purchased contributes to a more equitable global landscape. Read how below.
Made in Melbourne

Ethically Sourced Cacao

Empowers Women and Children in Africa

Premium Taste

Palm oil free

Sustainably Produced
AMAZING DO GOOD CHOCOLATE
CHOCOLATE
WITH A CONSCIENCE
ETHICAL SUPPLY CHAIN
AND PRODUCTION
2% OF SALES DONATED TO
THE HUNGER PROJECT
AESTHETICALLY DELIGHTFUL,
DELICIOUSLY DAZZLING
AMAZING DO GOOD CHOCOLATE
Don't take our word for it
"My favourite chocolate! Love love LOVE it and keep eating way too much of it. So much flavour and texture. Thank goodness for Hey Tiger!"

"Worth every cent. As tasty as it is ethical."

"Seeing how your chocolates are made is a massive selling point and the final product does not disappoint. Only issue us, you could easily finish them in one sitting, on your own."

"So great - beautifully packaged and divine Choc!!"

"These bars continue to impress. Thought has gone into the ingredients and I love the packaging and presentation. When I have occasion for special chocolate, Hey Tiger is my first choice."

"Best chocolate I have ever tasted!"

"Bought these as a gift for our Mum and she loved them! They also arrived super quick :)"

"I gave some Hey Tiger Easter chocolates as a gift and they certainly brightened the recipients day. For two reasons. One the packaging and two the delicious and unique flavours."

"I will forever love Best Mates! It is my 'go to' flavour choice and is simply the most delicious flavour combo that will have you salivating for more. One bar is never enough!!"

"This is the most delicious tasting chocolate in the most exciting flavours I've ever had - AND it's made from ethically source cocoa with a portion going to charity - amazing!"

"It's just too good to share! If there was ever a block of chocolate designed to be eaten in one sitting it is this one. Be your own Best Mate and get yourself one ASAP!!"
Hot off the Hey Tiger press
If you, like us, live in Melbourne, Australia, you are most likely complaining about the weather. It's too hot in summer, to windy and rainy in fall and right now it's too cold. (Unless you are our Creative Director, Mirte,...

Here is the deal, you have met our Mummies and now we want to meet yours! (Uhm.. Yeah that sounds pretty creepy but bear with us here..). We're giving you the chance to WIN a half year long subscription of Hey Tiger...

Mother's Day is coming up and as cheesy as it sounds, it does make you stand still and think about that special woman who raised you or gave birth to you. The Hey Tiger team in particular got a little...